Alliance Management Development and Support
Leverage experienced Vantage personnel to fill a gap in your Alliance Management Function. Whether a short-term need has developed, or longer-term solution is required, Vantage team members can seamlessly integrate with your organization to serve as an Alliance Manager on an interim basis.
Work directly with senior management, as an external near-term team member, to execute its vision and value proposition for building alliances.
When requested, support transition to an internal alliance management candidate once selected, and ensure the individual is set up for success.
Provide alliance management tools, templates, and best practices to team members as needed.
Our approach is intended to not only help build and sustain a world-class alliance management function, but to maximize the value of a growing alliance portfolio.
The Elements of Our Alliance Management Support
Staff Augmentation
Staff Augmentation
Fulfill the role of alliance management by interfacing with key internal stakeholders to optimize activities related to alliance management.
Meeting Facilitation
Meeting Facilitation
Facilitate key meetings associated with joint alliance management team and governance committees.
Workstream Support
Workstream Support
Proactive identification, intervention, and facilitation of collaboration issues/questions identified by workstream.
Coaching
Coaching
Throughout the duration of the engagement, provide candid coaching and advice to alliance management and governance leaders on alliance best practices, effective collaboration, and issue resolution.
The Importance of Alignment

We realize that alliance collaboration, especially in growing companies, often occurs during a time of significant stress. Dealing with potential conflicts and managing significant organizational differences in alliances requires discipline as well as strategic and operational alignment. To help mitigate this potential friction, we'll help ensure that operational assumptions and the strategic vision are aligned.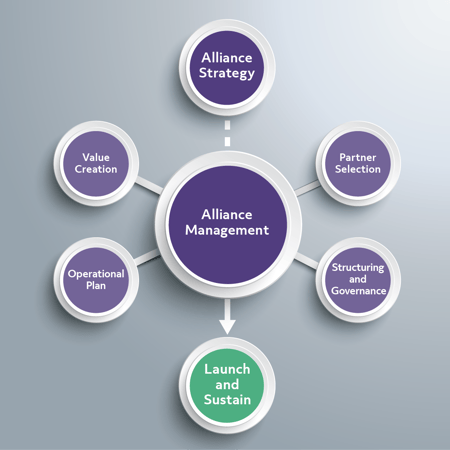 The First 100 Days
While each of our clients may be at a different starting point, we've identified a number of deliverables that typically must be created in the first 100 days of an alliance.
Vantage's temporary alliance management support facilitates and oversees these tasks. We take a roll-up-our sleeves approach to working with your team, and enabling the success of your early alliances.
The Key Behavioral Principles Behind Alliance Management Success
We've identified eight key principles that should be universally applied while developing an alliance management team.
Behaviors and attitudes are key to successful collaboration. The natural tendency is to immediately jump to the "whats" — the work that needs to be done. The difficulty is that in order to complete all of the work and meet your milestones time and time again, you have to put in place the "how" — how the teams will make decisions, communicate, and work together.
Go deeper.
When in disagreement, ask questions to understand your partner's perspective, and explain yours. Talk about underlying interests — not just positions.
Enthusiastically celebrate.
Celebrate achievements together.
Talk before email.
Pick up the phone and regularly reach out to your colleagues and partners.
Focus on the "how".
Clarify how we will collaborate, communicate, and make decisions before moving on to what needs to be done and decided.
Assume positive intent.
Always assume the best intent from your partner.
Consult and collaborate.
When in doubt, consult. Assume collaboration unless explicitly agreed otherwise. Respect your partner's expertise.
Take extra time to step in.
Intervene on unhealthy interactions in a timely manner.
Share.
Make it a habit to share information with your partner.
Alliance Management Support Beyond Asset Based Collaborations
In addition to traditional asset based collaborations, Vantage's service offerings also support our clients as they embark partnerships that expand "beyond the pill." As the healthcare ecosystem continues to expand, Vantage is here to help you navigate new ways to identify and access partnership value. Additional partnership types supported by Vantage include:
Digital
Partnerships with specialized digital and data companies (AI, blockchain, big data analytics, et al)
Academic
Partnerships with academic counterparts — including universities and teaching/research hospitals
Provider
Partnerships with related healthcare industry entities — e.g., public and private payers, hospitals, and local community providers
Contract Research Organizations (CRO)
Partnerships between Life Sciences companies and contract service providers that manage clinical trials
Contract Manufacturing Organizations (CMO)
Partnerships between Life Sciences companies and contract third-party manufacturing providers
Our Life Sciences Experience
Vantage Partners brings world-leading expertise derived from decades of collaboration experience in the unique biopharmaceutical and life sciences ecosystem. We support global pharmaceutical, biotech, and medical device makers as well as emerging life sciences leaders and academic research institutions, guiding them at each step as they navigate the alliance and partnership lifecycle.
Practice Leaders: Adam Kornetsky and Ben Siddall
Connect with a Leader in our Life Sciences Alliances Practice