Virtual
November 9-10, 2022
Managing Internal Stakeholders: Getting The Attention and Resources You Need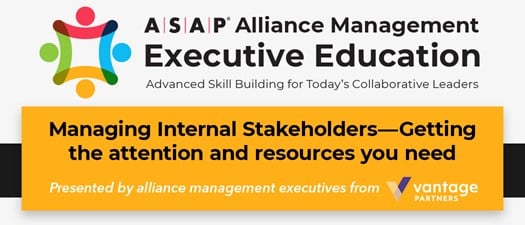 Presented by Vantage Partners
Wednesday, November 9 and Thursday, November 10
1-2:30pm ET each day
Alliance managers often encounter significant roadblocks when trying to secure attention and resources for a partnership, even after executives have given the green light. A Vantage Partners 2020 study on partnerships found that internal factors contributed most to alliance underperformance in companies that describe partnerships as "very important." Attendees who participated in this interactive workshop learned:
Insights about common pitfalls to avoid in building internal support for alliances
Enhanced ability to build internal stakeholder alignment and commitment
Strategies for engaging external alliance counterparts to assist with internal challenges
The presentation is available for download by clicking the button below.