Life Sciences Sales Academy
Immediate Real-World Application. US and Worldwide Market Expertise — and a Global Faculty. Activate your sales strategy. Created for Your Organization and Sales Processes, with only the training you need.
Built for the challenges that pharmaceutical and medical device sellers face every day, the Vantage Life Sciences Sales Academy shifts behaviors, develops new skills, and enhances capabilities needed to engage customers and execute the organization's account and product strategies — in the US and worldwide.
With Vantage's Life Sciences Sales Management Academy, executives at every experience level can immediately apply fresh strategies and skills to accomplish their daily work in new and innovative ways. Our proprietary frameworks and tools are tailored to your organization's needs and existing sales processes. Just-in-time microlearning weaves professional development into sellers' busy schedules. We continually assess learning and measure business impact to maximize learning ROI.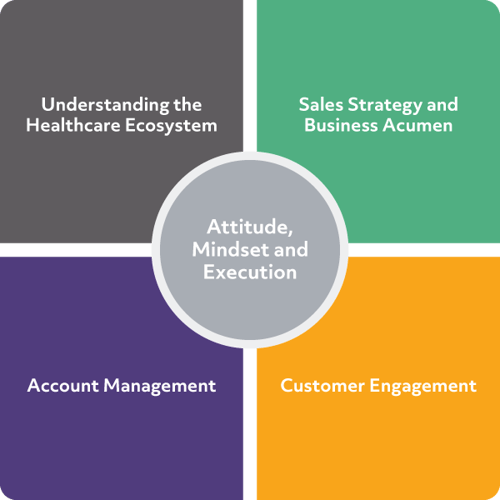 Life Sciences Sales and Account Management Academy Course and Curriculum
The Vantage team works with our clients to identify participant needs, competency development priorities and customer engagement strategies; we use those results to jointly develop a learning journey customized to each organization's specific goals.
Expanding Relationships and Influence in Your Account
Developing Joint Business Plans
Strategic Account SWOT Analysis
Account Planning Tool
Account Segmentation
Value Chain Analysis
Uncovering HCP and Other Customer Needs
Solution Co-Creation
Converting Insights into Action
Defining and Defending Value
Taking Share from Competitors
Telling Your Clinical Story with Insights and Data
Telling Your Clinical Story
Bringing Your Value Story to Life
StorySelling
Extraordinary Presenter Presentation Skills
Influential Conversations and Meetings
Influencing with Stories
Adaptive Leadership
Building Your Personal Leadership Brand
Leading High-Performing Teams
Delivering Performance Feedback
Developing Team Trust and Culture
Sales Coaching
Negotiating Strategically, Not Tactically
High-Stakes Negotiations
Negotiating Price Increases
Analyzing Competitors and Walkaways
Surfacing Concerns and Overcoming Objections
Systematic Negotiation Preparation
Diffusing Difficult Customer Tactics
Understanding Key Stakeholders and Their Interests
Navigating Payers, Providers, and Advocacy Groups
Capitalizing on Healthcare Trends and Innovations
Patient Centricity
Collaborating with Solution/Support Partners
Building, Sustaining, and Repairing Trust
Providing Insights and Data-Driven Advice
Balancing Conflicting Objectives, Priorities, and Perspectives
Leveraging Customer Feedback
Influencing Without Authority
Navigating Complex Stakeholder Landscapes
Enhancing Executive Presence
Multistakeholder Alignment
Advanced Influence and Persuasion Skills
Navigating the Customer Landscape in a Hybrid World
Leading Virtual Sales Teams
Avoiding and Overcoming Virtual Selling Pitfalls
Making the Most of Virtual
Engagement Technologies
Delivering Compelling Virtual Sales Presentations
Thinking Like Your Customer Executive
Advanced SWOT AnalysisBuilding a roadmap to the C-Suite
Avoiding Common C-Suite Selling Pitfalls
Where and How to Focus C-Suite Engagement Efforts
Strategies for C-Suite Engagement
Strategic Thinking
Generating Insights with Data and Analytics
Compelling Data Visualization
Customer Segmentation
Data-Driven Account and Territory Planning
Systems Thinking
Overcoming Hard Bargainers and Difficult Procurement Tactics
Identifying and Deploying Sources of Leverage
Understanding Procurement's Motivations and Constraints
Learning to Speak "Procurement"
Overcoming Procurement as a Gatekeeper
Customer Collaboration
Navigating and Leading Change
Managing Conflict Productively
Building, Sustaining, and Repairing Trust
Matching Your Style to Customer Counterparts
say our facilitators are 'knowledgeable and comfortable teaching the subject matter'
would recommend Vantage training to a colleague
Vantage built a comprehensive sales and account management academy for a large pharma's 250-member account management group. The account management academy is comprised of numerous courses focused on building customer engagement and other soft skills. It includes courses such as Building Your Account Leadership Brand, Influence and Stakeholder Management, Negotiation, Difficult Customer Conversations, Executive Engagement, and Strategic Thinking. Each course is open enrollment; leaders nominate their people to take courses in accordance with their individual development plans. Account managers also can self-select courses to build their competencies and further their performance and professional development.
Vantage built a series of annual workshops to support a US-based biologics company's yearly skill-building objectives, helping them to build and expand competencies across their trade, payer, GPO, advocacy, and IDN sales teams. Sales executives self-select courses based on their own needs and challenges. Each course builds on previous deep dives into the content that were rolled out over approximately two years. This program enables a long-term development strategy to increase the overall competency of the North America market access and commercial organization.
Vantage undertook a comprehensive reevaluation and assessment of a global Fortune 20 medical device company's sales model. The assessment identified a need for significant competency development in areas of customer negotiation, competitive selling, virtual customer engagement, and strategic sales and accountterritory business planning. Vantage worked closely with its client to develop a core team of 20 trainers trained in Vantage's methodology and frameworks in these critical competency areas. After building out advanced selling skills courses in these areas, the client's trainers have rolled out programs to the sales force globally, to be delivered, in the course of a multi-year effort, to all 12,000 representatives.
For a global medical device and consumer health products leader, Vantage designed the capstone learning experience in the company's frontline sales manager development program. As sales executives make the leap from being individual territory managers to running districts with 10-12 reports, this learning journey ensures they possess the strategic thinking and business acumen can to plan their district-level strategies—and prioritize their time and attention across each of the individual territories—to grow and sustain revenue. Vantage's course combines elements of sales strategy with leadership and coaching, effective customer engagement, and understanding data in order to ultimately meet sales targets and lead in the field.
To support a global pharmaceutical services company's strategic goal—to be differentiated on the basis of excellence in customer service—Vantage designed and led a customer-centricity transformation initiative involving dozens of virtual training sessions for over 1000 individuals across executive leadership, sales, project management, and operations. This program reached not only the professionals who touch customers daily, but those working in factories and laboratories in support of customers, in order to build an overall customer-first mindset. The highly scenario-based program enabled participants to wrestle with difficult customer situations and align on the best responses when tradeoffs are required. The program created a vision and common mindset for working with customers across international sites from Australia and China to Europe and North America.
With margins squeezed by fierce competition and increasingly powerful procurement organizations, a global cardiovascular leader engaged Vantage to help it fundamentally shift the way its sales organization approached customer negotiations. Salespeople needed to negotiate for value—to develop cross-divisional solutions, craft more creative contract terms, handle tough tactics from counterparts, and align and sell to hospital administration, procurement, and clinical personnel. After conducting a negotiation capability diagnostic assessment with a cross-section of sales managers, Vantage rolled out a customized "negotiation toolbox" for sales teams, integrated with the sales process, and a series of intensive, 2-day negotiation training workshops for the entire salesforce, customized for VP-level, through key account managers, to sales representatives. These workshops (and follow-up training) instilled a common negotiation vocabulary and toolset, a collaborative mindset, and new culture focused on long-term contracts with customers that create significant value for both sides. Subsequent Vantage trainings for non-client facing functions further cemented the new negotiation, communication, and collaboration practices into their culture.