How We Help
We employ a broad range of learning and training methods, which we combine and tailor to the needs of our clients for maximum learning impact and flexibility.
Customized Learning Journeys
To maximize impact and ROI, we help clients look beyond discrete training events, tailoring and implementing comprehensive learning journeys that integrate multiple skill development activities and resources.
Digital & Virtual Learning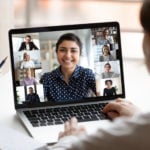 We provide instructor-led virtual training, which allows for rich, real-time participant interaction with instructors and between participants, addressing the learning needs of your employees wherever they are. In addition, our self-paced digital solutions, whether standalone or as complements to instructor led-training, provide another, highly flexible mode of learning.
Learn More
Classroom Workshops
We design and deliver highly interactive, classroom-based training for our clients, offering open enrollment classes on standard training topics as well as highly customized classroom training sessions for specific audiences or learning objectives.
Action Learning
We have deep expertise in applying principles and techniques of action learning: developing competencies through immediate application of new concepts and skills to critical, real-world business challenges. We incorporate and emphasize peer coaching, so colleagues can help each other master new tools and support each other's learning.
Learning Simulations
Sometimes the most effective way to achieve learning and development objectives for a given audience is through a "flipped classroom" model, in which we maximize use of digital and virtual learning resources and devote classroom time solely to practice and application. We also design and facilitate robust, customized simulations for intact teams facing complex challenges.
Sustaining Impact
Training is only as good as its ability to make a lasting difference. We employ various forms of follow-up and reinforcement to increase the "stick factor" of our learning solutions and ensure that people retain what they learn, apply it effectively, and have access to continued resources and support.